Everything you've ever wanted to know about a Facelift and Necklift!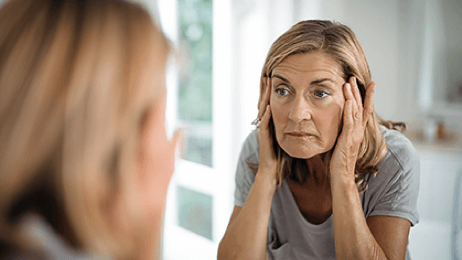 How many times have you looked in the mirror and caught yourself doing one of these moves?
Let's be honest, we all do it. I often see patients that come to the office and make this same gesture, asking me if fillers and Botox can replicate the resulting appearance. While these nonsurgical procedures can help with replacing lost fat, filling in deep lines, or softening our lines of expression, it will not result in that.
It's really at this time that I bring up the idea of a facelift and/or neck lift to address excess skin and repositioning of the underlying tissue. While this topic is vast and there is plenty to talk about, I wanted to focus on the most frequently asked questions I get in the office.
What is a face or neck lift? While the surgical techniques differ, these procedures remove excess skin and tighten or lift the underlying support structures that lie just under the skin.
Are there scars? Where are they? Yes, there are scars. Yes, that sounds a little scary when we are talking about your face but trust me when I say that they are not noticeable. The scars typically run from the front of the ear, around the earlobe, to the back and into the hairline. There is an additional scar right under the chin in that crease we all already have, as well, to tighten up those neck muscles and remove any fat we might have there. Every single one of those scars is hidden in creases we already have, making the scars nearly impossible to see.
How old do I need to be? We typically think of facelift patients in their 60-70's BUT we should really be open to this procedure much earlier. The ideal time to start thinking about a face or neck lift is really during those early years of aging when our skin quality is still generally good. It is not unusual for someone in their 40's to undergo this surgery. Those patients typically have fantastic results and immediately look refreshed and renewed. What you want to avoid is delaying a facelift for decades and getting fillers in the interim. Oftentimes, if fillers are used to address sagging of skin, patients will end up with that "filler look" which is unnatural and leaves your face looking very full. There is such a thing as too much in these cases.
Will I look like I just walked through a wind tunnel? No. A good face and neck lift should be very natural. Most people will not even notice that you had anything done. What you'll find is they will ask if you came back from vacation or had a good night's rest, because you will look that refreshed.
Will I look like I'm 30 years old again? A facelift will reset the clock 10 years. So, you might not look like you are 30 but you will definitely see the benefits of the surgery. While you will continue to age, that clock will be reset so every year will be better than if no surgery was performed to begin with.
How long will my results last? Results typically last 10 years. A face or neck lift does not stop aging. You will continue to age because, well that is what our bodies do, but with that clock reset, you will look younger during that process. It is usually at that 10 year mark plus or minus, that people might want a "touch-up" or revision.
As I always say, it's best to consult with a Board-Certified Plastic Surgeon to really discuss your goals and see if this procedure is the right one for you.